Explore Earl's contemporary furniture designs using the tabs above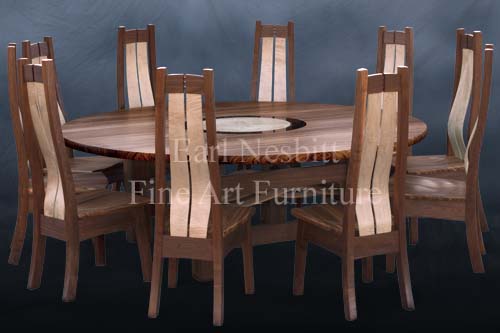 Contemporary Furniture
What Sets This Custom Made Furniture Apart —
Earl creates one-of-a-kind pieces of functional sculpture in the form of custom made furniture. His contemporary furniture designs are unique.
His style is defined by his use of large slabs and rare highly figured woods combined with clean, elegant lines and an eye for detail. His furniture displays solid wood so that its subtleties can be enjoyed - the way the grain moves through a sculpted piece, or the smooth feel of a tabletop or a shaped edge.
As one of only a few custom furniture makers he is constantly exploring new techniques to push the limits of contemporary furniture design. Durability is of the utmost importance: his custom made furniture is built to last for generations. This along with limited production ensures the value of each piece which has his hand-carved signature and is archived to authenticate his original designs and ensure the customer's investment in the artwork.
Earl is honored that this is the fourth consecutive year his company has received the "Best of Houzz" award for Customer Satisfaction. He always works very hard to meet or exceed his customers' expectations with each new piece of custom made furniture he designs and builds.